Identify Excessive 3rd Quarter Annuity Charges
In Less Than Five Minutes!
Are Your Currency Costs Too High?
If you're like many organizations we've worked with over the years, you probably don't know. 
Despite receiving detailed breakdowns of official, agent, and service fees, we still see clients pay 10%, 15%, and 20% currency premiums. 
The answer is pretty simple. It's hard to audit IP invoices. Really, really, hard. You need to locate official fees and exchange rates for hundreds of countries and thousands of different annuity tax years or trademark class combinations. And you need to do it each quarter. 
There are services like Prokurio that can audit invoices, and several reputable consulting groups can also do the job, but they all cost money, need contracts, and require some of your valuable bandwidth.
And it still doesn't get done. 
So, years go by, and finally, you launch a project to review your maintenance costs. As expected, you've been paying 10%, 15%, or 20% in excess currency costs for years, now representing millions of Dollars or Euros. 
How much money could you save if you could stay on top of your invoices?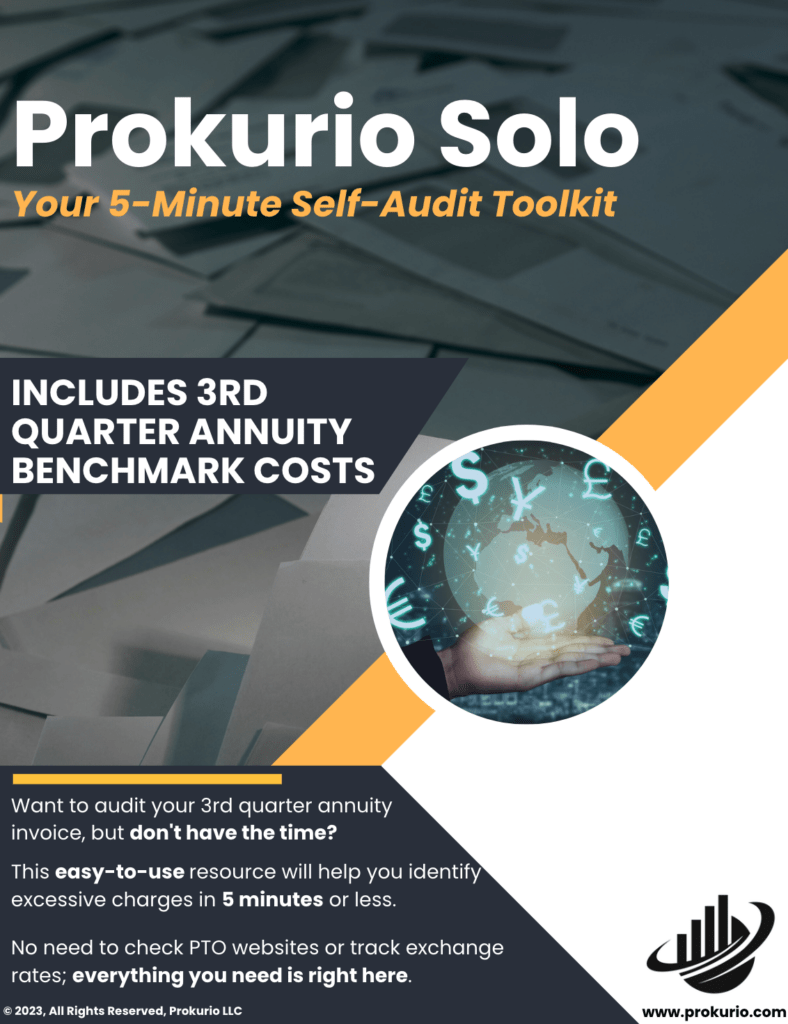 It's Time For A New Approach
A full portfolio audit is a great way to understand the extent of possible overspending, but it isn't needed regularly. 
What is needed is a way to quickly and regularly audit a portfolio to check for red flags. It can't require substantial IP or IT expertise, and it can't require data to be transferred anywhere. Free would be nice. 
We've designed Solo as the go-to resource for finance and IP teams to audit IP maintenance invoices quickly. Each quarter, we provide organizations with audit tools designed to take the mystery out of complex PTO fees and exchange rates.
The best part? Solo is quick, easy, and free. Anyone can check an invoice charge in a matter of seconds. No IP or IT expertise is required. Just compare your charge against our range of acceptable charges. If you're in the green, you are good. Orange and yellow costs should be monitored and if you are in the red, it would be worthwhile to investigate further.  
Our free version of Solo includes fees for ten international jurisdictions billed in US dollars, which should be sufficient for many organizations. We also offer a premium edition supporting EU, CHF, and GBP invoices, additional currency detail, benchmark agent rates, and 20 additional personalizable countries.